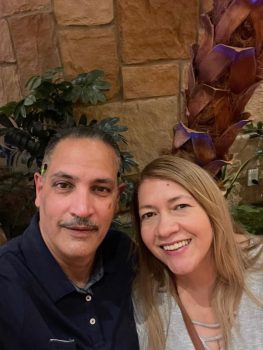 God bless you all!! My name is Jimmy Diaz and I am excited to part of this wonderful group of people who forms Elyon House of Bread. This is a group with the same passion and desires to help all those who are in need. Allow me to share a little bit about myself. I was born and raised in the South Bronx of New York City, at the age of 15 my parents wanted to move us out of the Bronx because things were not to good.  I was being recruited by drug dealers to take their merchandise to other places, my dad decided enough was enough. We move to Connecticut in the small town of Meriden. Before we moved, I was visiting a church and the pastor told me that their was a friend waiting for me and that He has great plans for me. I thought the pastor was a little off because I didn't know anyone there, I didn't understand about the friend until a few years later. Things were hard at first, there wasn't enough money for what we needed, but my parent made due with what we had. A week before my 18th birthday I was invited to a friend's house for a Halloween party. Everything was good but something wasn't right. I was hanging out with people, laughing, talking and all that good stuff but I was empty. As I left the party and started walking home, I felt a heavy weight of despair, loneliness, sadness along with the emptiness. I looked up to the heavens and asked, "is this it?" The next morning I decided to go to church, it had been a while since I'd gone. That Sunday morning the youth of the church were having elections to form a youth group. I thought to myself this is what I needed, a change. That Sunday I was elected as the youth treasurer. I gave my life to Christ and never looked back. God has blessed me greatly. The youth worked together to help other young people to get closer to Him and feel what I felt when I met Jesus for the first time.
Fast forward a little bit, God has blessed me with my wonderful wife Laura of 34 years. Together we are the youth pastor of our church. I became an ordained Minister in June of 2007,  became a Chaplain for Ministry of Chaplain The Good Samaritan, M.I. June of 2014 and then became an instructor that following year.
I have also become an assistant Pastor of the church I have been a member of for the last 42 years.
On the 22nd of November 2020, while preparing for a funeral that I had to officiate, I wasn't feeling right. My wife told me that it was nerves, but I knew it wasn't that. When she touched my forehead I was burning up, she took me to the ER. I was at 104, oxygen was 79%. They did tests, took X-rays and told me it might be COVID. Once they were able to lower my fever,  I was sent home.  The next day I got the call, I had COVID. A week later on the 29th of November I could not breathe, I felt like I was about to die. My family called for an ambulance not thinking it was the last day we'd see or talk to each other. Things took a turn for the worse at 3:30 in the morning I was place on a ventilator and put into a medically induced coma not knowing if I would ever come out of it. During my time in a coma I was told that I was moving around trying to take off the ventilator trying to get out of bed, like I was fighting for my life. The nurse told my family there was something special about me, because you shouldn't be moving while in a coma. While all of this was going on I did not know that family and friends and even those who did not know me from took the time to cry out to the Lord and intercede for me, believing that God will do His will in my life. During that time the Lord gave me visions and dream. It's a vital part of my testimony that I can't wait to share with you all. After 12 days I woke up. During my time in coma, I was told that I coded, I passed away. The team of doctors and nurse were able to bring me back. God gave me a factory reset, something happened in my life that cause me to say I want to something more!!
or this reason I am here, to let people know that God gives life and life in abundance. He is a God of a 2nd, 3rd chances. All you have to do is believe.
Here at Elyon House of Bread, we are here to serve and help out those who are in need, big or small. No matter what you are going through, you will always have someone here who can provide whatever your need is. Prayer, a word of hope and encouragement through our Lord and Savior Jesus Christ, a hug and a smile. These men and women of God will do all we can to make things possible through Jesus.